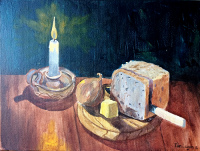 "For Compassion's Sake"
At the Presbyterian Centre
88 the Parade, Island Bay, Wellington, NZ
What is your vision of compassion? This exhibition, part of a new festival in 2018 called COMPASSIONFEST,from Sunday 30th September to Sunday 7th October 2018,gave creators the chance to showcase their idea of its meaning.

I was happy to be involved curating this exhibition and exhibiting as well. My painting for the exhibition is featured here, An onion, some butter and half a loaf of bread.

It was inspired by a story of Suzanne Aubert visiting a family with 5 children in Wellington. The mother was sick and this was all they had to eat.